Protection
from carrot fly
Non-chemical control
The carrot fly (Psila rosae) is attracted by the smell of plants in the parsley family (Apiaceae) and can cause damage to crops of carrots, celeriac, parsnip, celery, etc. The smell of these plants can be masked by strong smelling granules containing onion oil.
Trials designed to test the effectiveness these granules have been conducted by PPO (Wageningen University) during a four-year period. The aromatic onion oil was distributed per plot. It transpired that the plants nearest the onion oil suffered much less carrot fly damage than those plants further away from the aromatic oil. This generally resulted in reducing the damage by half. Good results with onion granules were also confirmed in 2015 in a trial conducted by GartneriRadgivningen (Denmark). Onion oil supplements other pest control methods and provides protection from the time of sowing and/or planting to harvest. In 2016 and 2017 France's Groupe de Recherche en Agriculture Biologique (GRAB) achieved good results with onion oil granules.
Characteristics
• Aromatic substance deters carrot fly
• Reliable effect
• Onion oil granules do not come into contact with the crop itself
• Natural product
• Protection from sowing and/or planting until harvest
• Supplements other pest control methods
• For all Apiaceae crops susceptible to carrot fly damage
Application
The granules are applied using dispensers. Place approximately four dispensers per hectare as soon as the seeds have germinated, or immediately after planting.
Onionoil is sold by Naturim
Instruction manual
Interested?
Send an email
Are you looking for more information, dealers, or do you have other questions? Fill in the contact form below.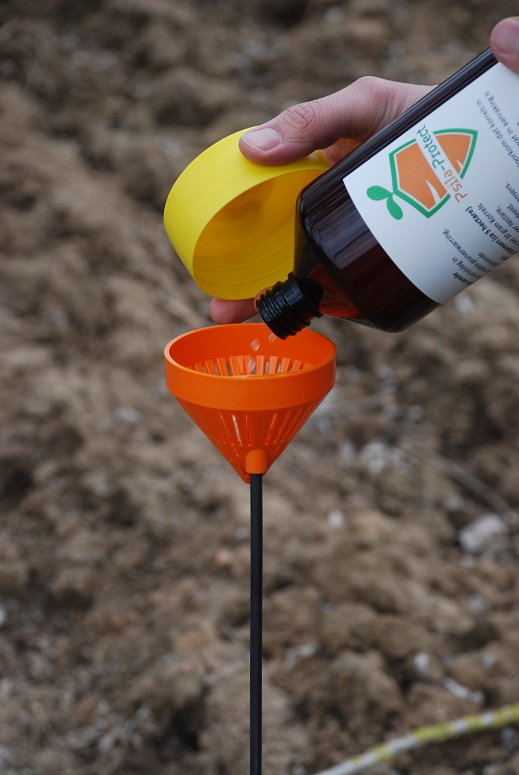 Risk analysis carrot fly
This risk analysis provides you with an estimate of the risk of damage due to carrot fly. The risk analysis is to be carried out for each crop and each plot. It produces a number of points. The more points, the higher the risk of carrot fly damage. There are 3 categories:


| | |
| --- | --- |
| Points | Risk |
| less than 4 | Slight risk |
| 4 to 6 | Risk |
| more than 6 | High risk |
The risk analysis considers a number of risk factors. A primary factor is carrot fly abundance immediately after seeding or planting. This abundance can be estimated by looking at whether fields of umbelliferae are and were nearby. In addition, the seeding or planting time is important. The risk analysis provides only a global indication.